Conferences, fairs, and seminars in Italy
---











---
"Paper recycling — a necessity for today's paper loop"
EcoPaperLoop Seminar
on Tuesday Oct 7, 2014, 12—17 h, in Milan, Italy
A seminar for everybody in the paper chain: recyclers, printers, publishers or agencies as well as packaging converters.
Riciclo della carta e del cartone:
pubbliche amministrazioni e impreseinsieme
per un'economia circolare
Milano 7 ottobre 2014 Palazzo Pirelli, Sala Pirelli Via Fabio Filzi, 22 Milano
---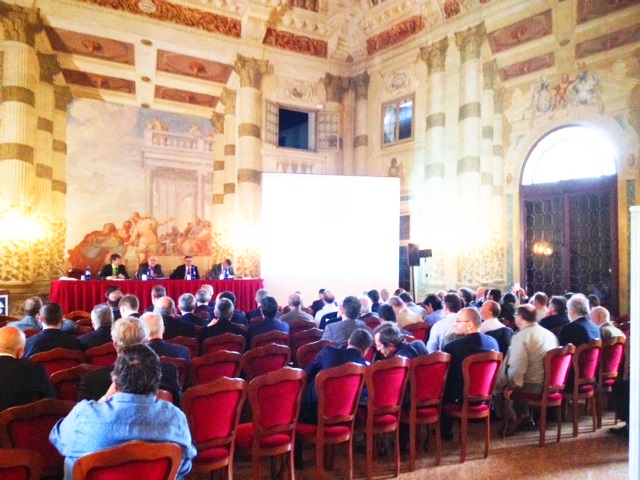 Aticelca conference, 30 maggio 2014
Graziano Elegir presented on


"Il progetto EcoPaperLoop:
sostenibilità della filiera cartaria".
---
Seminario: Carta stampata a ridotto impatto ambientale tra appalti verdi e ecolabel, Torino 27 Maggio 2014
Graziano Elegir presented on


"Impatti ambientali di settore, norme tecniche e metodi di prova".
---

Pack in Carta e Cartone: Innovazioni Sostenibili
3 Marzo 2014, 14:00—17:30, Milano
La partecipazione è GRATUITA! Informazione:

Presentation by Graziano Elegir

Interview with Eliana Farotto and Graziano Elegir:
www.youtube.com/watch?v=Ov8g8iuI7ws
---
Ecomondo in Rimini, November 5-8, 2013
Ecomondo is the most accredited platform for southern Europe and the Mediterranean basin, for the exploitation and recycling of materials and for the large industry of the future, also called Green Economy.
Innovhub-SSI and COMIECO as EcoPaperLoop partners contributed a poster "Il ruolo del riciclo nella sostenibilità ambientale dei prodotti cellulosici" (by Daniele Bussini, Graziano Elegir, Tullia Maifreni, Eliana Farotto, and Federica Brumen).
---
EcoPaperLoop at a seminar in Lucca, November 21, 2013
EcoPaperLoop partner Comieco together with Centro Qualità Carta in Lucca organized a seminar "Riciclabilità degli imballaggi e dei prodotti a base cellulosica".
Eliana Farotto, responsible for R&D at Comieco, presented about "Il riciclo dei materiali a base cellulosica".


Graziano Elegir of Innovhub-SSI introduced "Progetto Ecopaperloop: una strategia per aumentare la sostenibilità degli imballaggi in carta".
---
If you have any questions, do not hesitate to contact us!