Conferences, fairs, and seminars in Italy
---











---
Riciclo della carta e del cartone:
pubbliche amministrazioni e impreseinsieme
per un'economia circolare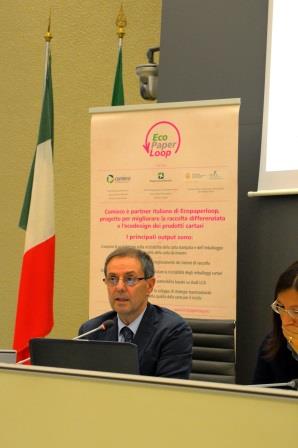 The event organised by Italian EcoPaperLoop partners, comprising attractive topics ranging from GPP, paper collection and technical recyclability issues, gathered more than 80 people. The interesting program covering a broad number of subjects relatively larger audience and the institutional location itsels, one of the Lombardia Region building, attracted several local authorities allowing an interesting discussion between public and private actors of the paper value chain.
In the morning, the project partner Regione Lombardia presented the work they are performing in the project and the importance of setting the right conditions to facilitate best collection practices in the area. The regional Environmental Agency (ARPA Lombardia) explained the current most relevant actions in the context of the new National plan for GPP mentioning product recyclability as one important topics to be taken into account.
Massimo Ramunni from the Italian Paper Association (Assocarta) mentioned the increasing amount paper for recycling exported to China from Italy and pointed out the importance instead of proximity recycling whenever the conditions are suitable as well as the need of lower beurocracy in the Italian system.
The afternoon was more focused on Ecopaperloop results, Graziano Elegir presented the new score card proposal based on the results of the laboratory packaging campaign conducted in five CE countries whereas Daniele Bussini presented a LCA study on the comparison of flexo printed products versus offset printed ones.
Finally a presentation by Maurizio Bonuomo (Barilla), one of the largest paper based packaging users in Italy, opened the discussion on the use of the new score card in the paper value chain in the next years. In this context, there are several different point of view concerning the weight of different parameters Additional discussion is surely needed in order to find the best way to help packaging designers to develop sustainable products.
---
---
If you have any questions, do not hesitate to contact us!