EcoPaperLoop:
Enhancing the Quality of Paper for Recycling
A Central Europe Project
---
Outcome and Recommendations book is available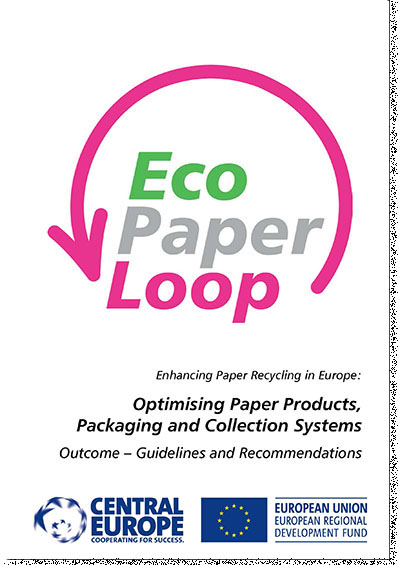 The EcoPaperLoop Project has come to an end.
The final Outcome and Recommendations book is available for download and also as a hardcopy on request.

Download the book here (400 pages, 14.2 MB)
I - Guideline Document
Recyclability of Paper Based Products
II - Guideline Document
Eco-Design for Recycling: Criteria for Sustainability
III - Guideline Document
Recommendations on Collection Strategies
IV - Guideline Document
Policy Recommendations and Guidelines
V   Krakow Final Conference Presentations
---
All Guideline Documents will also be available in German, Italian, Hungarian, Polish, and Slovene.

EcoRecycling Calculator: Online Calculator tool for the sustainability of paper recycling (5.2.5.)
---
INGEDE Methods translated
In the course of the project, important INGEDE Methods have been translated into German,
Italian,
Hungarian, Polish, and Slovene.
---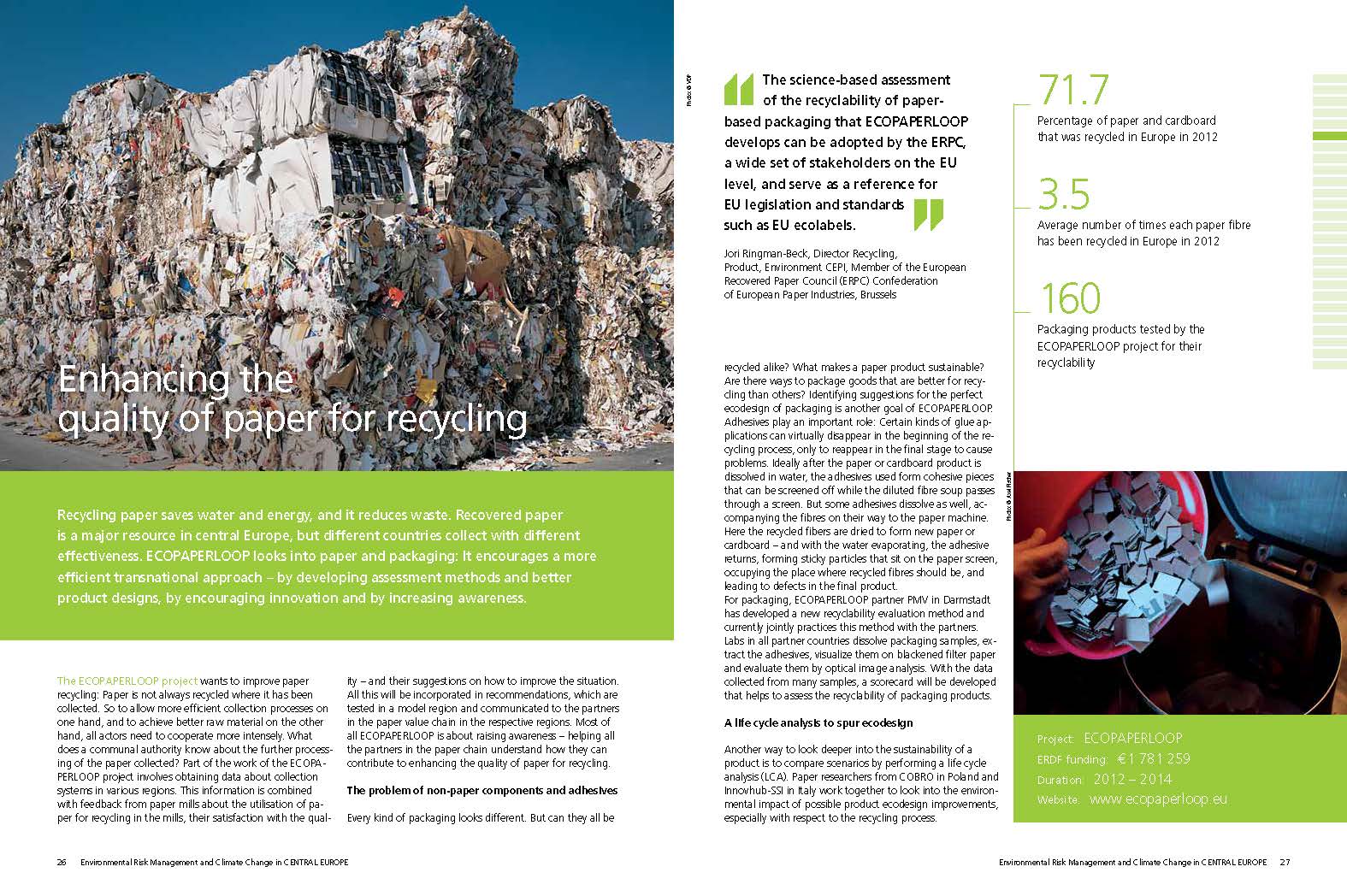 The EcoPaperLoop Project
in the Central2013 Portraits book.

---
PRESS RELEASE FINAL CONFERENCE IN KRAKOW
Komunikat prasowy Końcowa konferencja EcoPaperLoop w Krakowie
---

EcoPaperLoop Project Final Conference
December 2nd, 2014 in Krakow, Galaxy Hotel
Program: Wrap-up of the project containing the work packages
Recyclability Assessment
Eco-efficient Collection Systems
Sustainability Assessment
Transnational Policy Development
More details and the presentations are available on the conference website.

---
EcoPaperLoop Method 1:
Testing the Recyclability of Packaging

Download the method here.
---
Recyclability Scores for Packaging:
How good is your box after use?
2nd issue of the EcoPaperLoop Newsletter "Awareness"
is available for download

here.
Includes also:
How to test the recyclability of packaging
Recyclability Scores yet to be decided
Professional Day of Packaging Technologists in Budapest
EcoPaperLoop Seminar in Ljubljana: "I'll be back", says the newspaper
---
Steering Committee Meeting in Milano 27—28 October 2014
See details on the partner pages!
---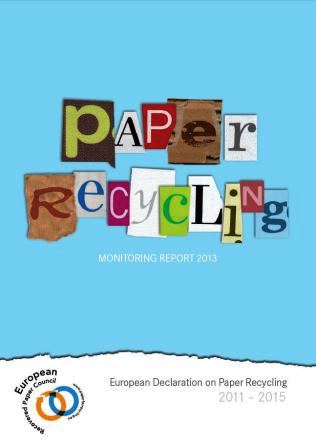 European Paper Recycling in 2013 at 71.7%
This and more facts about Paper recycling in Europe in the
2013 Monitoring Report of the ERPC.
---
EcoPaperLoop Seminar in München am 9. Oktober 2014
in German at PTS München, 11:30—16:00 hrs — click here for all the details!
Seminar in deutscher Sprache in der Papiertechnischen Stiftung in München — Details hier!
---
Seminar for all members of the paper chain in Sopron, Hungary on July 9, 2014
---
Presentations now available online!
---
Meghívó: Papírgyűjtési Stratégiák
Tanácskozás a Papír Lánc valamennyi tagja részételével. 2014. július 9. Szerda, Sopron, Magyarország
---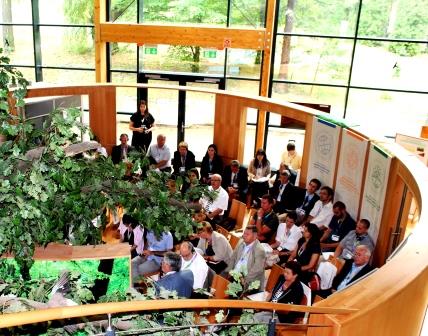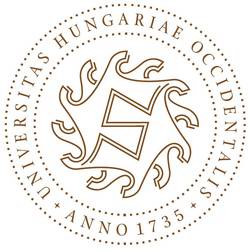 You missed it, but all the information will be available online: EcoPaperLoop Seminar July 9, 2014 in Sopron, Hungary,for everybody in the paper chain: recyclers, printers, publishers or agencies as well as packaging converters or representaives of administrations dealing with paper and packaging collection!
---
Past Seminar Jan 22 in Ljubljana
---

Eco-friendly recyclability of paper based products:
Recyclability evaluation and policy guidelines
The two day event consisted of a seminar with brain storming session and a practical workshop.
For more details and the full program click here.
The presentations of the seminar and workshop are available for download!

---
Awareness
Awareness — the first edition of the EcoPaperLoop Newsletter
is available in English, German, Hungarian, Slovene, Italian and Polish.
Download the English version (pdf)
Tudatosság: Download the Hungarian version here
Verstanden: Hier die deutsche Version herunterladen
Consapevolezza: La versione italiana e' riportata di seguito
Ozaveščanje: Downlad the Slovene version here
Świadomość: Finally here is the Polish newsletter
---
Past Events
---
4th International Joint Conference on Environmental and Light Industry Technologies
20-22 of November 2013 in Budapest, Hungary
Faculty of Light Industry and Environmental Engineering of Óbuda University
---
Last EcoPaperLoop Seminar Oct 29, 2013 in Warsaw, Poland, for everybody in the paper chain: recyclers, printers, publishers or agencies as well as packaging converters — more information here.
---
EcoPaperLoop seminar "Together we can improve ecological paper loop" in Ljubljana on Feb 14, 2013 — more information in Slovenian here.
---
Presentations about EcoPaperLoop at the INGEDE Symposium in Munich on February 13, 2013 by Graziano Elegir (Project Leader), Harald Großmann and Dennis Voß.
---
For project partners only: EcoPaperLoop Recyclability Seminar on January 22nd and 23rd, 2013 at PMV lab in Darmstadt. A detailed introduction into the proposed Recyclability Method for Packaging Papers. More information on the partners only page.
---
Presentations available: EcoPaperLoop seminar at the CEPI European Paper Week in Brussels
on Wednesday, Nov 14, 2012

Graziano Elegir, Dr. Hans-Joachim Putz and Prof. Harald Großmann gave an outline of the project. The presentations are available here!
---
For first press release please scroll down!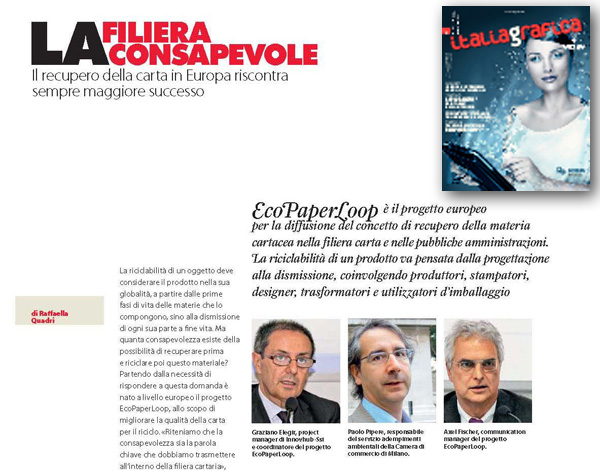 NEW: "You Impresa" Business TV Camera di Commercio Milan has a video about the kick-off press conference.
Italia Grafica has a two-page feature about EcoPaperLoop
---
Paper is a natural biopolymer obtained from a renewable resource (wood). It is renewable, recyclable and, at the end of its life, biodegradable. Paper recycling increases the material lifespan and is a key strategy that contributes to: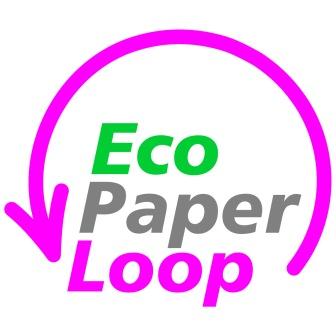 - Save primary raw material (wood/forest)
- Reduce energy consumption versus the use of
virgin fibres
- Reduce chemicals consumption
- Reduce the impact on fresh water
- Improve waste management strategies reducing
its use in thermocalorisation plants and
landfilling of biodegradable material.
One of the main driving forces to effectively implement high valuable paper recycling strategies in given regions is the 'Environmental awareness of the society'. Nonetheless, in this context, recovered paper quality is THE key element: On one side preventing constrains during paper recycling operations and securing good quality raw material for the paper industry, and on the other side reducing the environmental impact (e.g. the better is the secondary raw material the lower is the environmental impact of its treatment) of the regions thus obtaining social benefits.
In Central Europe regions recovered paper is a major resource (secondary raw material), however, the paper recycling rates are still highly inhomogeneous. Since recovered paper is not only recycled in the country where it is produced some essential features such as ecodesign and eco-collection concepts must be developed at transnational level to increase the sustainability of the paper loop.
---
This is, as the project has just been approved, a first very basic website. Come back later for more information.
Questions? info@ecopaperloop.eu.
---
To be in line with the European Data Protection Guidlines, the links to Linkedin and Twitter here have been removed. You can still follow us on Twitter ("Ecopaperloop") and look for INGEDE on Linkedin.
Legal Notice
We maintain this website to enhance public access to information about its initiatives and policies in general. Our goal is to keep this information timely and accurate. If errors are brought to our attention, we will try to correct them. However, we accept no responsibility or liability whatsoever with regard to the information on this site.
This information is
of a general nature only and is not intended to address the specific circumstances of any particular individual or entity
not necessarily comprehensive, complete, accurate or up to date
sometimes linked to external sites over which INGEDE/EcoPaperLoop has no control and for which we assume no responsibility.
Copyright notice
If not stated differently, all information is copyrighted. Reuse e. g. of press releases is authorised, provided the source is acknowledged. 
Reuse is not applicable to documents subject to intellectual property rights of third parties.
Privacy
In order to protect your privacy, this website does not use tracking cookies or mechanisms like Google Analytics.
Still, in case of following a link, there might be cookies of third parties involved that we cannot influence or point at. Still your browser allows individual settings for the handling of cookies.
When you access our website, our service provider automatically records some data in a protocol file:
IP address in anonymised (shortened) form
date and time of access
the site you accessed (URL)
status information (such as error codes)
data volume transmitted
information about the browser used (name of browser, operating system, language, etc.).
These data are for statistical purposes only. This site has no online forms (e. g. contact form) that requires to fill personal data.
How do we treat emails you send us?
The webpages on this site can have a contact button or contact link, which activates your email software and invites you to send your comments to us.
When you send such a message, your personal data is collected only to the extent necessary to reply. If we are unable to answer your question, we might forward your email to a competent member representative. You will be informed, via email, to whom your question has been forwarded to.
If you have any questions about the processing of your email and related personal data, do not hesitate to include them in your message.
---
This project is co-funded by the European Union/European Fund for Regional Development.

---
If you have any questions, do not hesitate to contact us!